Marriage Records in the UK
Case Study: Ellen Terry
Ellen Alice Terry was born in Coventry, England in 1847 into a theatrical family headed by actors. Her first appearance on stage came at the age of seven when she played the Duke of York in Shakespeare's Richard III at the Princess Theatre. She had been trained under Charles Kean and his wife, Ellen. She continued acting at the Princess Theatre until the Keans' retirement in 1859.
In 1862, she joined her sister Kate in Bristol and began working with J.H. Chute's stock company where she played a wide variety of parts, including Titania in A Midsummer's Night's Dream.
Ellen Terry married three times, and was involved in numerous relationships during her lifetime. In London, during an engagement with the Haymarket Theatre, Ellen and Kate had their portrait painted by the eminent artist George Frederick Watts, and was impressed with the music, art and elegance of his lifestyle. She married him on February 20,1864, shortly before her 17th birthday, when Watts was 46. Ellen gave up acting during her marriage to Watts. Neither she nor her husband were faithful, and they separated after 10 months of marriage.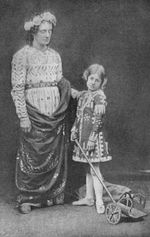 Her son, Edward Gordon Craig, in 1872, was the result of a liaison with the progressive architect-designer Edward William Godwin, with whom she retreated to Hertfordshire, again temporarily retiring from acting. The liaison cooled in 1874, and she returned to her acting career.
From 1874 she became the leading Shakespearean actress in London, and in partnership with Henry Irving became successful in England (especially at Irving's Lyceum Theatre) and the USA. She married on 21st December 1877 Charles Clavering Wardell, an actor/journalist.
In 1903 she formed a theatre management business with her son, abandoning her business partner Irving. She struck up a friendship and a famous correspondence with George Bernard Shaw during this time, and divorced from Wardell. On 22nd March 1907 she married American actor James Carew. She became a Dame Grand Cross of the British Empire (GBE) in 1925. She died in 1928 after a long illness.
Finding the Marriage Record of Ellen Terry & George Frederick Watts
Ellen Terry married George Frederick Watts on February 20, 1864. To find the marriage record, I used BMDindex.co.uk.
Choosing to search the images for 1837 - 1983, I entered my search terms. First, I decided to find Ellen Terry, so I entered her name and chose the year 1864. There were 4 results, one for each quarter-year, so I clicked on the results for Oct-Dec. I found the correct record halfway down the page:

As you can see, she married in Kensington, London.
Start building your family tree today with TreeView
(Powered by TreeView)